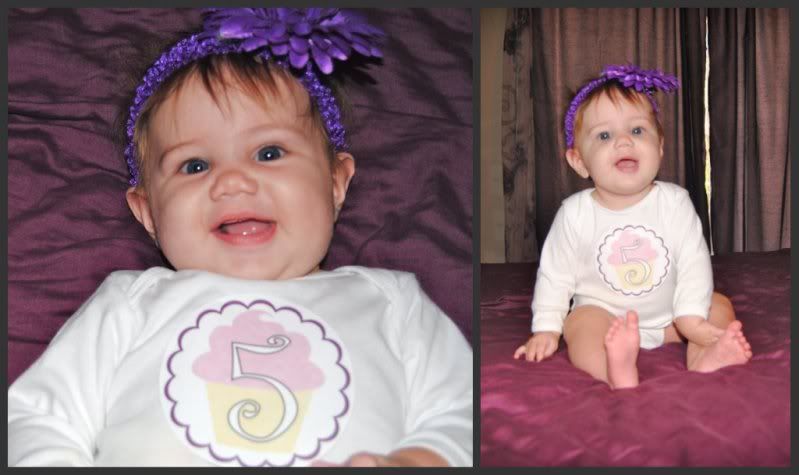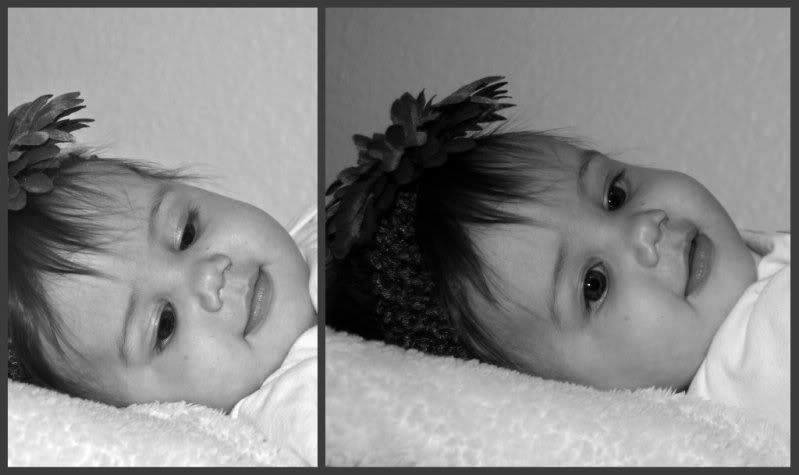 this month you:
-are a traveling tot! you rode on your very first airplane, & slept/ate the whole way & back. the air pressure didn't even bother you-yay!
-can sit up ALL by yourself. (with a pile of blankets behind you "just in case.")
-eat big girl food now. oatmeal, rice cereal, avocado, carrots, & bananas are part of your diet now--bananas are your favorite of course. you laugh & smile the whole time i feed it to you.
-you can officially feed yourself a bottle--but i always hold you while you eat anyways. i love how you stare at me while eating, blinking slowly.
-i can make you laugh/smile the easiest :) everyone else has to work for it a little more. you are VERY friendly to strangers though!
-you wear size 2 diapers now.
-you are SO tall. people always think you are older than you are, & your toddler-length hair doesn't help either!
-you have such a dainty disposition. you are going to be one graceful little lady!
-you are HEAVY. i can barely carry you to the car in your car seat! your weight is average, but mama's muscles are LESS than average.
-you love your toys! bubbles the seahorse, minnie, & your rattles are your favorites.
-you blow bubbles all day long. it's so funny, especially when you do it at church when it's quiet!
i sure love my little girl, & cannot BELIEVE you will be six months old next month. i cry on every single one of your "monthly birthdays" when i see the sticker with the number of months you are on your white onesie, thinking to myself how fast time is going & how big you are getting. it's so bittersweet each month you get older, because while i wish you were a newborn that loved nothing more than cuddling with me all day long, i also love seeing you experience new things.
you are an absolute joy, aubrey jane! your daddy & i just love to marvel at you & wonder how in the world we created something so precious.